Frequently asked questions
Some questions you possibly ask yourself
About transgenders and shemales
What is a shemale?
There are men and women but also transitional beings.
A transsexual is a man who became a woman as a result of surgery with man-made female genital organs. The term "transgender woman" -as opposed to "cisgender woman"- is also used.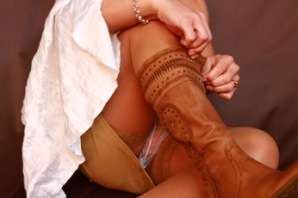 A shemale (a.k.a. a pre-ops transsexual) has characteristics of both genders (breasts and penis) but with a feminine outlook. A shemale has a functional penis but also breasts, no unwanted hair, a soft skin, a slim waist and generously proportioned buttocks. The word "shemale" (vs. transsexual) is more specifically used in the "sex-industry".
Congenital shemales have -by nature- no "Adam's apple", to the contrary of shemales whose transsexuality is the outcome of a medical gender re-assignment.
A crossdresser is a man wearing women's apparel.
You are a man and you feel attracted by shemales; are you gay?
Absolutely NOT! Shemales don't attract gay men. The latter ones are looking for a typical man outlook. I'm a symbol of femininity, exactly the contrary. You are definitely heterosexual. None of my clients would ever have an affair with a man.
Can shemales get an erection?
Definitely! But the way for a shemale to get an erection is by being slowly caressed all over her body, not by a direct stimulation of her penis. The most sensitive place for a shemale -at least for me- are her breasts and, more specifically, her nipples.
About dating with me
You never had a date with a shemale before and you are not sure how you will react?
Everything has a first time. Each day, I meet men for whom this is a new experience and it always goes very well.
We take the time to know each other and to discover what your (hidden) expectations are, what you really like or not so much. There is no compulsory programme. The programme is made up by ourselves. I know from experience you will be stressed at the beginning of the date and I am there to help you overcome your apprehension. After 10 minutes, your stress will be past history, believe me.
And please read what clients wrote about their date.
Who are AGNÈS' clients?
Gender: 80% men, 10% couples man-woman, 10% women alone
Age: 40 through 75 years old, covering 95% clients
Language used during the date: 60% Dutch, 30% French, 10% English
You are a couple curious about a date with a shemale
I receive more and more requests from couples wanting to make their sensual life more spicy.
I am truly bisexual, meaning that when dating with a couple, the woman and I take care of the man and I can also have a good lesbian time with the woman.
It all takes place in a very natural way, and I take into consideration told and untold desires from both partners
You are a woman and want to have good time with someone different
Most women I meet want to express their lesbian part to some extent. They just opt for a date with a shemale because a shemale has a FEMALE libido, she likes body to body contact and sharing long times of tenderness.
A shemale has no urge to have intercourse; she enjoys for hours the time of being together and lets her partner enjoy the time of being close to each other. I like to caress you all over for a long relaxing time.
The best way one can define a date with AGNÈS is as a different lesbian experience.
Some practicalities about a date
Accessibility, parking, secrecy
I welcome you at my place of stay at 600 m of the highway exit (5 min drive from the airport), in a quiet residential area. Finding a parking spot is never an issue. I welcome you in a discreet individual house.
You have arrived at my place... what then?
You ring the bell and I welcome you personally.
First we'll have a drink and a small talk to learn to know each other. After 10 min you'll be completely at ease, trust me. If you wish, It's possible to refresh yourself (shower) before and after the date.
From this point onwards everything takes place in an intuitive way with no predefined plan...
I have arrived at your home or hotel... what then?
I call you on your mobile when I have arrived. It's then up to you to provide me with instructions (waiting for you in the hotel lobby, getting directly to your hotel room, ringing your apartment bell...).
What is possible?
The possible activities during a date are described on the page: Services.
When is AGNÈS available? - How long in advance do you need to book a date?
All this is explained on the page: Appointment.
♣ ♣
♣